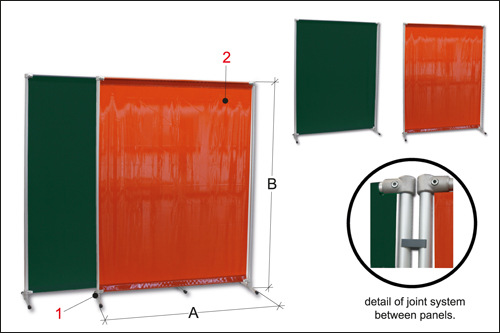 The ideal solution for protecting personnel working near welding and grinding stations
Our welding screens are designed to protect personnel from the harmful effects of welding machine usage. They are particularly useful in workplaces where welding and grinding activities are common.
With our welding screens, we ensure maximum safety for personnel working in the vicinity of these workstations. Our screens are made of high-quality and certified materials, capable of absorbing and reducing the risk of sparks projections and limiting the welding machine's glare
Disponibile anche il nuovo strumento brevettato per la smerigliatura e rifinitura delle superfici interne e frontali di barre per torni convenzionali, a movimento automatico dell'utensile
The protection provided by our welding screens not only ensures the safety of personnel but also contributes to creating a more comfortable working environment. By reducing the welding glare, our screens improve overall visibility and reduce eye fatigue.
The safety of personnel is our top priority. For this reason, our welding screens comply with current regulations and undergo rigorous quality testing to ensure excellent performance.
Please feel free to contact us for further information about our welding screens or to request a personalized quote. We are here to help you protect your personnel and create a safe and comfortable working environment. Choose our high-quality welding screens for reliable protection and peace of mind.
Leaders in the Manufacturing of Machine Tool Accessories
Over 30 Years of Experience
Grow Your Business Safely with Us