Safety cap for milling drawbars
Cod. PFR05
Specific protection for the segregation of the upper or rear tie-rod of the milling machine, with constrained opening / closing movements.
Fitted with a pre-drilled fangle for mounting and opening protected by a 2 NC safety microswitch and screw locking.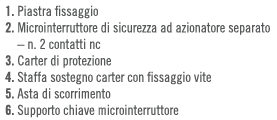 You are requesting information for:
Safety cap for milling drawbars
PFR05
Would you like to gain further information about this product?
Fill in the form and send it.